This was my first trip in awhile that didn't involve exploring a whole new state or city. It wasn't dedicated to a specific event. My friend Rebekah (food blogger you need to check out here) and her husband Dave were in Wichita over Christmas and invited me to visit Portland again. I had used their place as home base for my trip to the Pacific Northwest in 2012. I explored Seattle, Vancouver BC, a few national parks, and ended with the Olympic Trials in Eugene. This time around the rough plan was basically just to chill in Portland for a week.
I started stalking Kayak.com for a good deal on a flight just anytime after the track season was over. By mid-February I found a round trip in June for about $320, I believe (from Wichita via Denver). This was the only significant expense as I had a place to stay and would just use public transportation in and around Portland.
I got into town Tuesday morning, got situated at Rebekah and Dave's house, and headed downtown to hit Portland essentials Powell's bookstore and Voodoo Donuts. I'd been to both in 2012 and it was largely out of a sense of "supposed to" that I went again. Don't get me wrong, I love Powell's–though as a place to sit down and write it's not the best as it's just too popular and crowded. Every table in their café was occupied. Voodoo is good as well, I just didn't particularly enjoy the Portland Cream which has been declared "the official donut of Portland."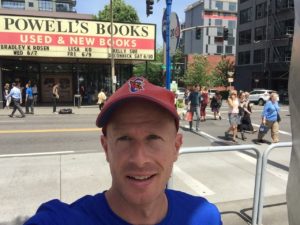 Food, in general, was great throughout the trip. I either wound up at a local restaurant or ate a homemade meal with Rebekah and Dave, and they are both experts (did I mention PDXFoodLove)? The lone exception was a lunch on my own downtown when I learned the hard way that I don't like kimchi.
Wednesday I rode the train out to Washington Park and hiked to the International Rose Test Garden. After lunch I wrote for a bit at the library and then rewarded myself with some frozen yogurt.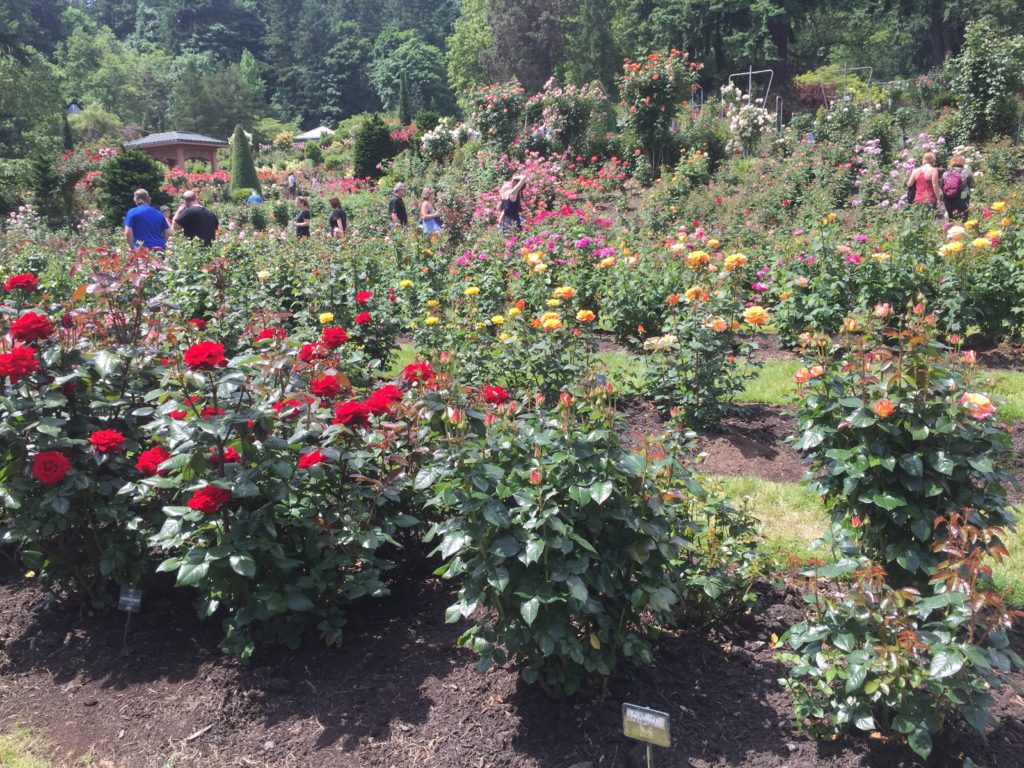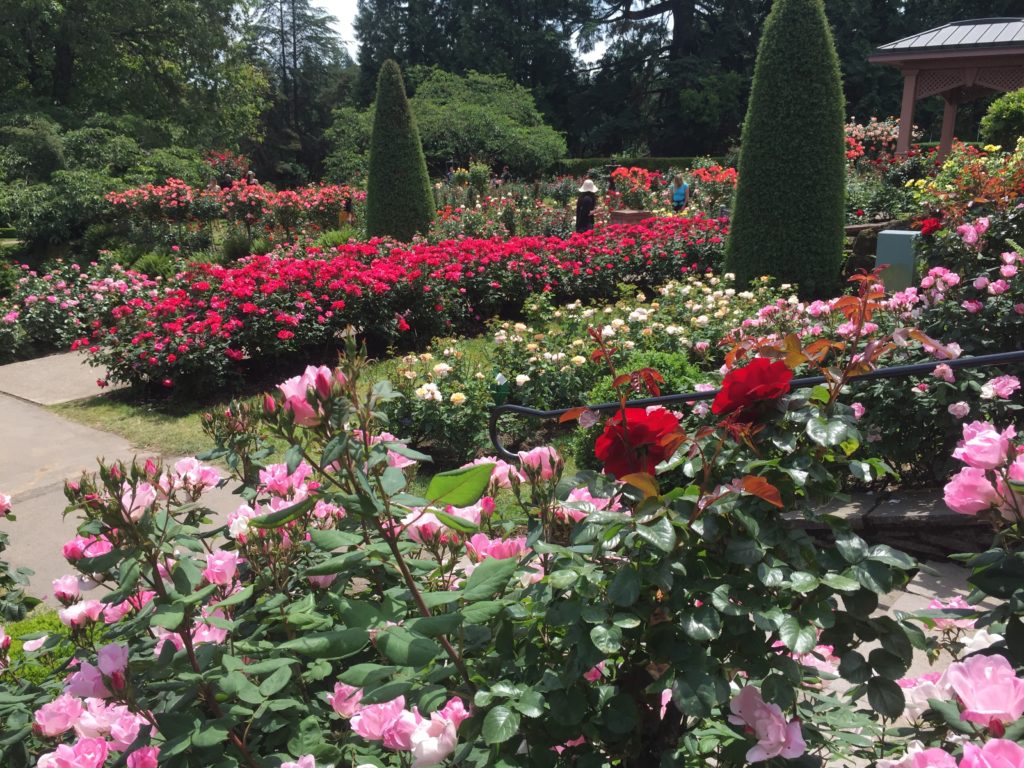 Just four days before my trip I realized that one of my former athletes, Hunter Veith, was competing at the NCAA championships in Eugene during the same time I'd be in Portland. So, Thursday, I spent on the bus to and from Eugene and at the track meet. Hunter is a decathlete and they break it down to five events over two days. I followed his competition on Twitter Wednesday and in person on Thursday. He finished 6th in the nation, earning 1st-team All-American honors!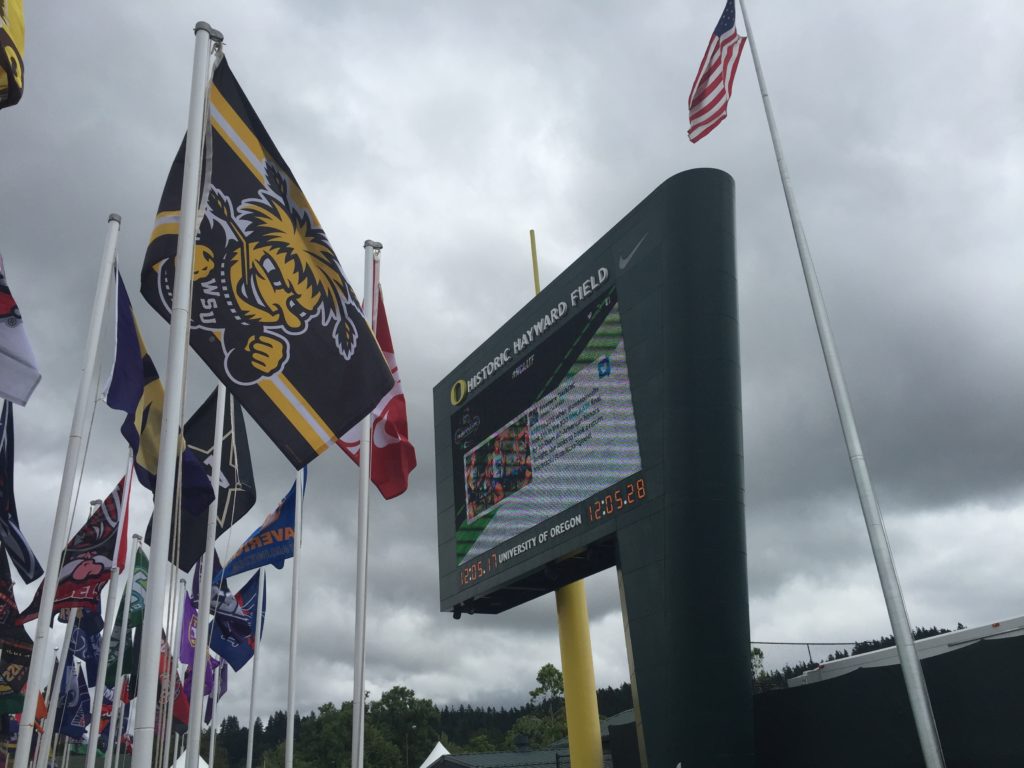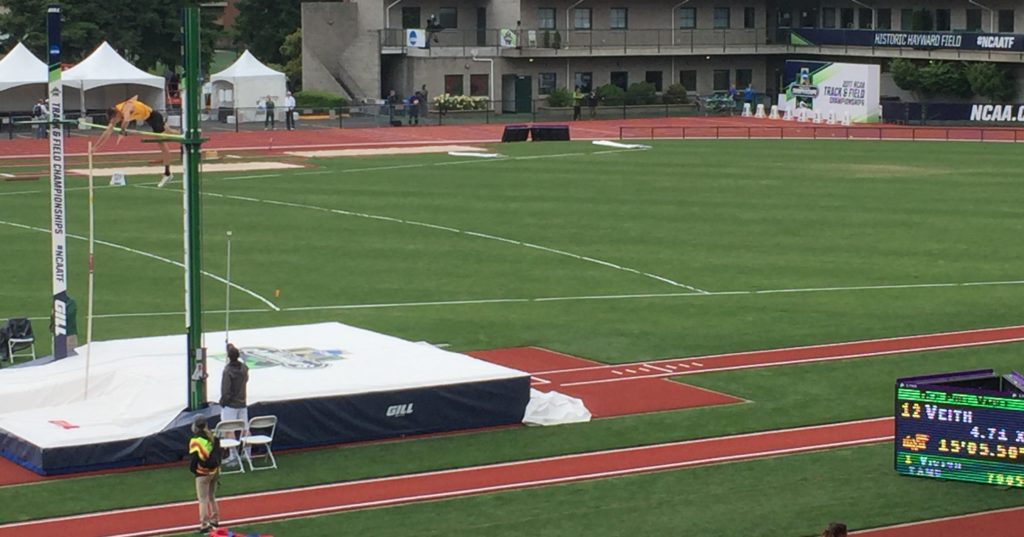 Friday, back in Portland, the initial plan was to just hang out in Cathedral Park and read and write. But the beautiful St. John Bridge pointed at Forest Park was just too tempting. Rebekah called Forest Park, "the best city park in the world," and I'm not going to argue with her. If miles and miles of trails through thick yet inviting forest is your thing, then this is your place. The problem became that it was so big that after 90 minutes of walking I was still in the middle of the park. I had skipped breakfast (that's another topic–not something I usually do, but I'm experiment with the ideas of intermittent fasting and eating within a smaller metabolic window), and it was nearing lunch time. I tried to find the most direct route out of the park to find pubic transportation and get some lunch and a rest. I chose poorly. I found my way out of the park, but into a part of town with zero public transportation. So my hike continued through the multi-million-dollar homes in the hills before finally finding a nice little place where I grabbed a turkey panini for lunch while a brief rain came through. I continued hiking before finally reaching a bus stop in Beaverton. If my iPhone is to be trusted, I had covered about ten miles on foot. Based on the time that had passed and how my legs felt, I'm going to say that's pretty accurate..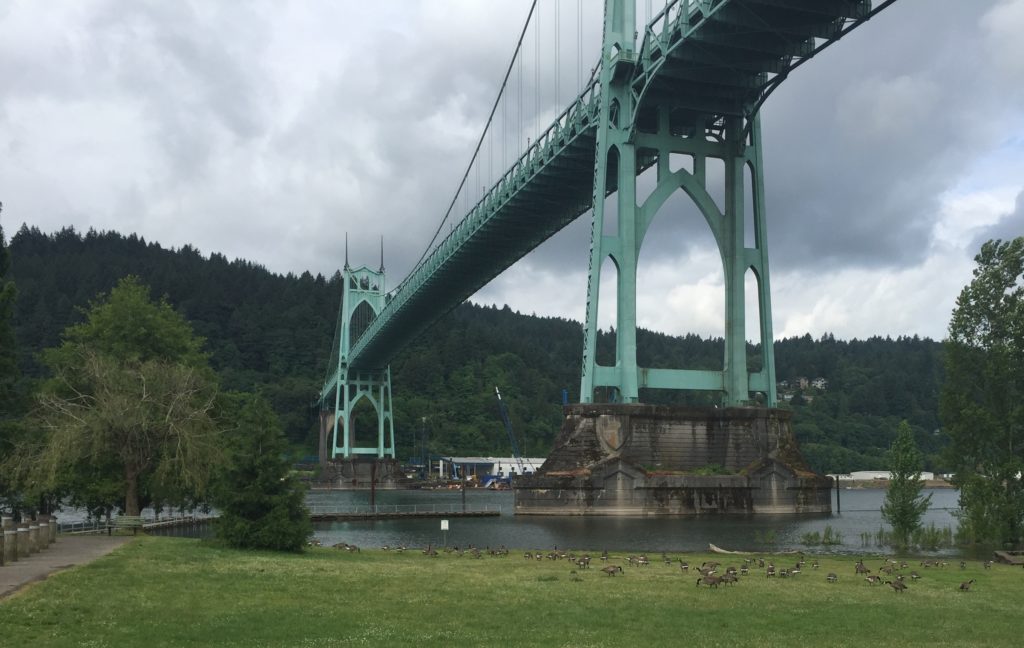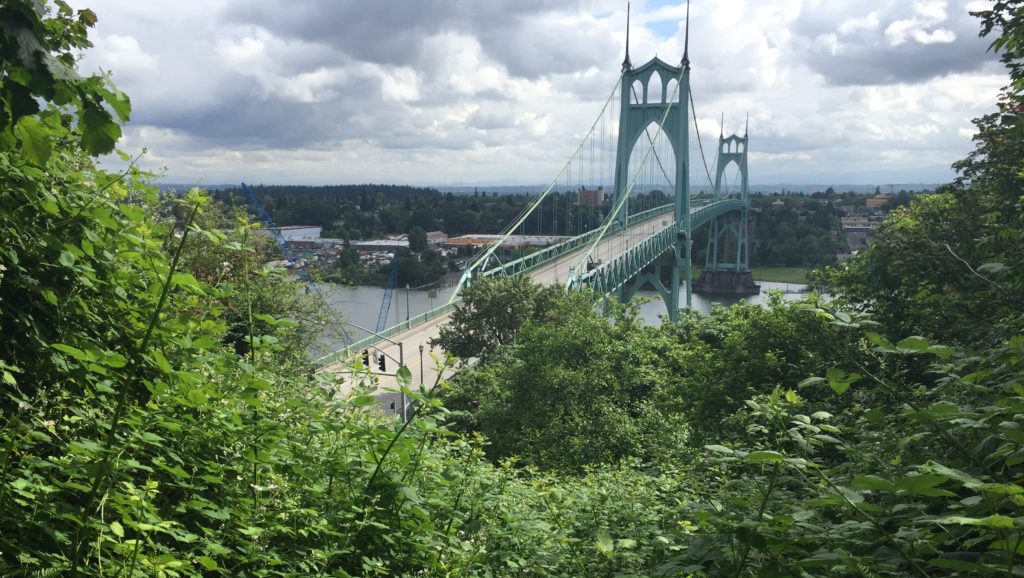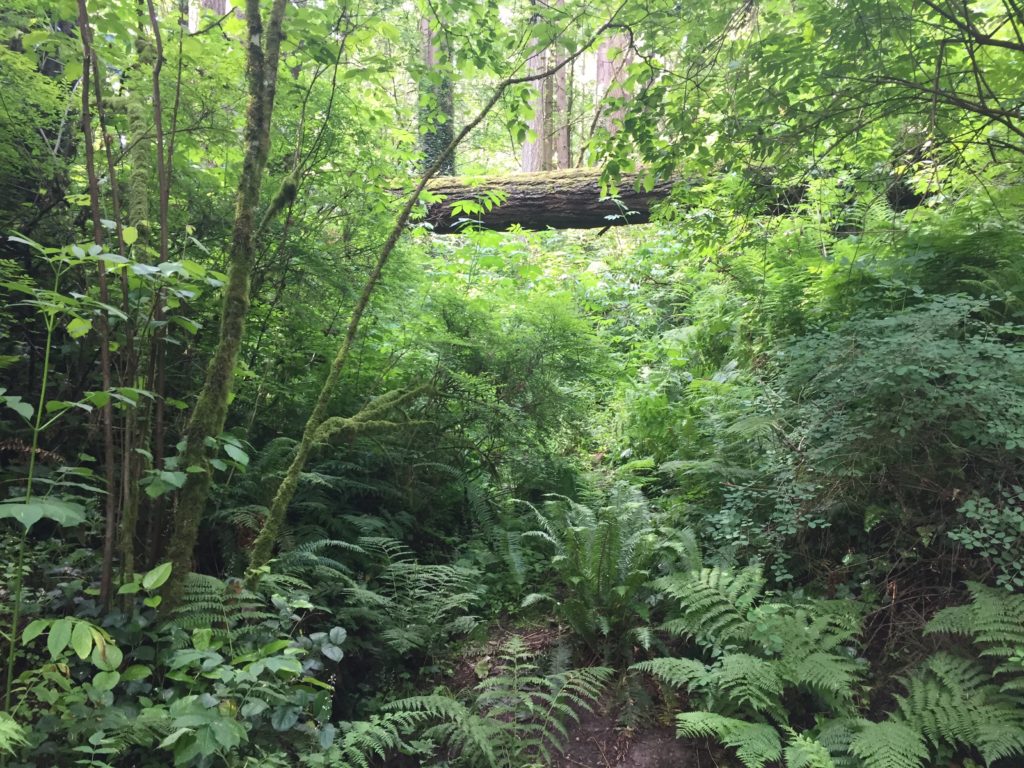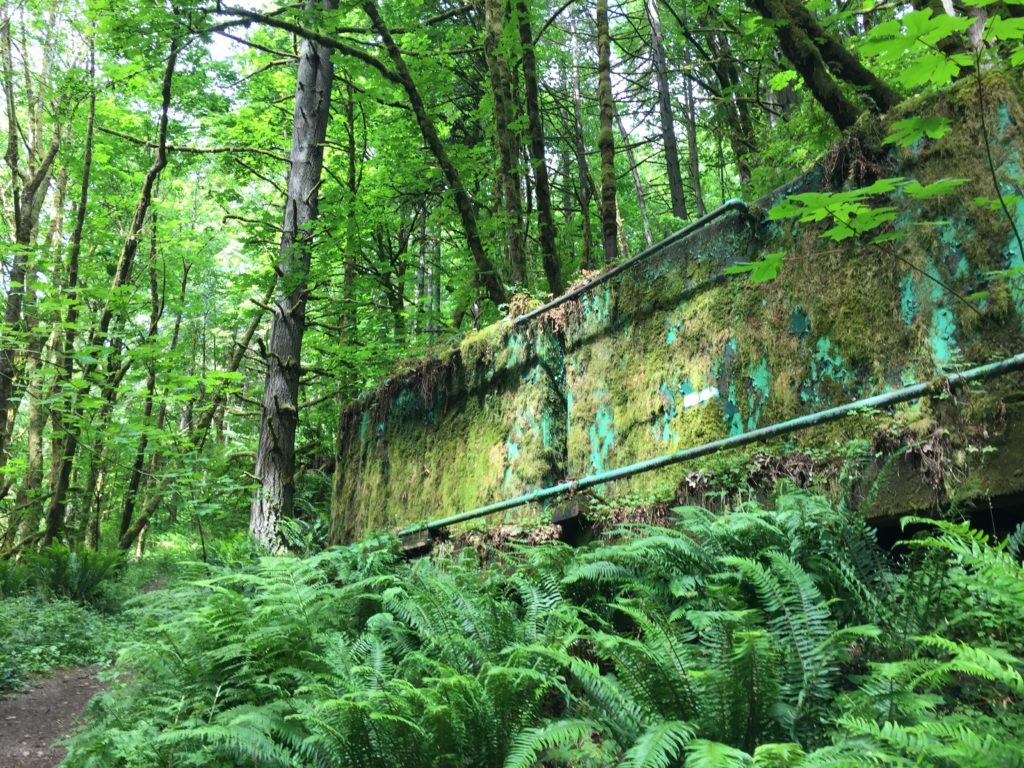 Saturday morning I joined Rebekah and Dave during their volunteer hours at the local food bank. It's probably the kind of activity I need to spend more time doing, but I tend to be all talk and no action when it comes to stuff like that.
After lunch I walked to Peninsula Park near their home which has its own very impressive rose garden (understatement of the week; see pic below) for a little reading and writing before we went to see Wonder Woman in the afternoon.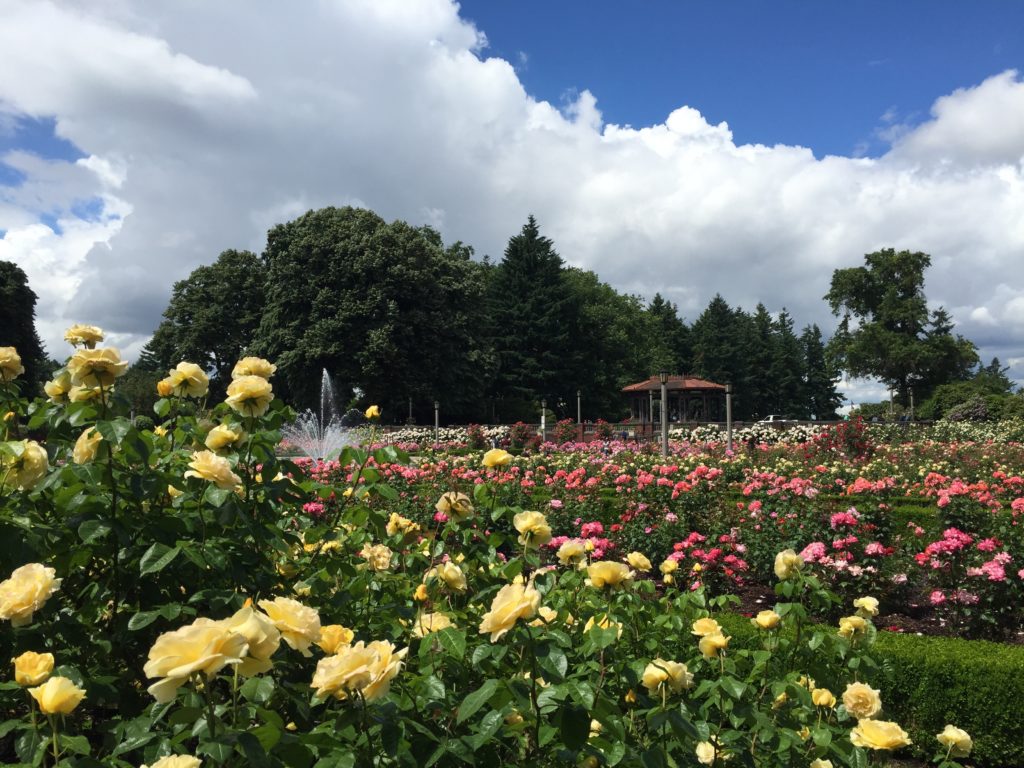 On Sunday, Rebekah and I went on a hike in the Columbia River Gorge area. I still just find it staggering how little things on the map are anything but in person. The Columbia River serves as the border between Oregon and Washington state. It's just a squiggly line on a map, but in person it's awe-inspiring. The hike itself was worth the whole trip as it's definitely not the weather and scenery you'll find in Kansas. I'd like to officially nominate the Oregon-Washington state border as the most impressive in the country. Any other nominees?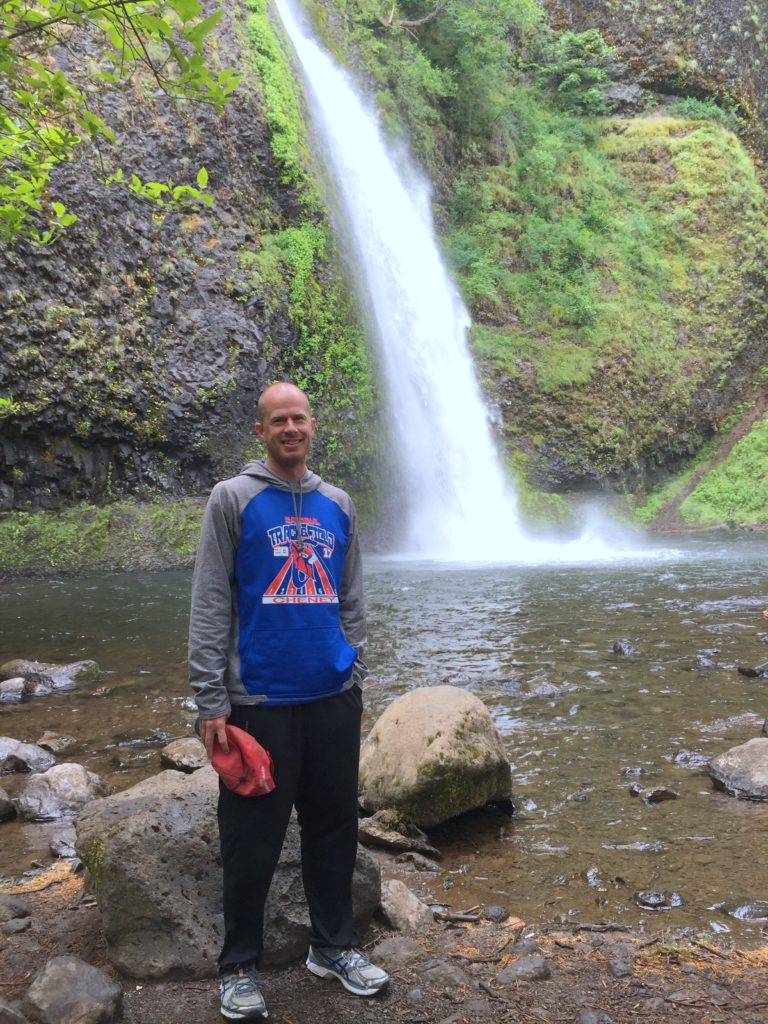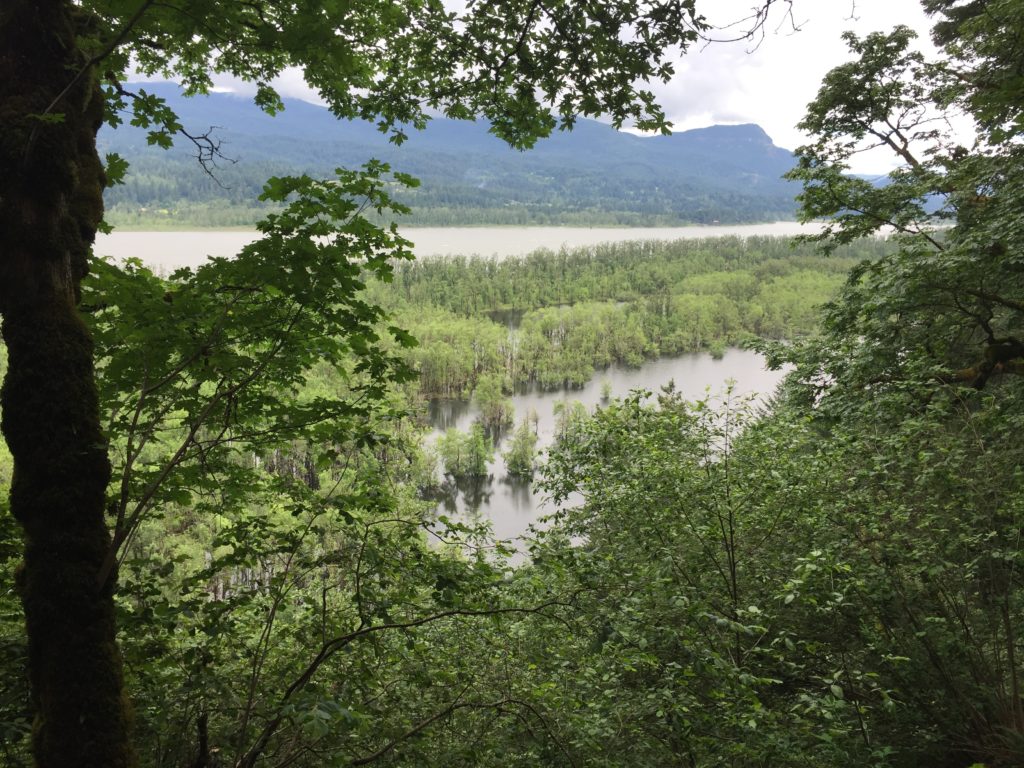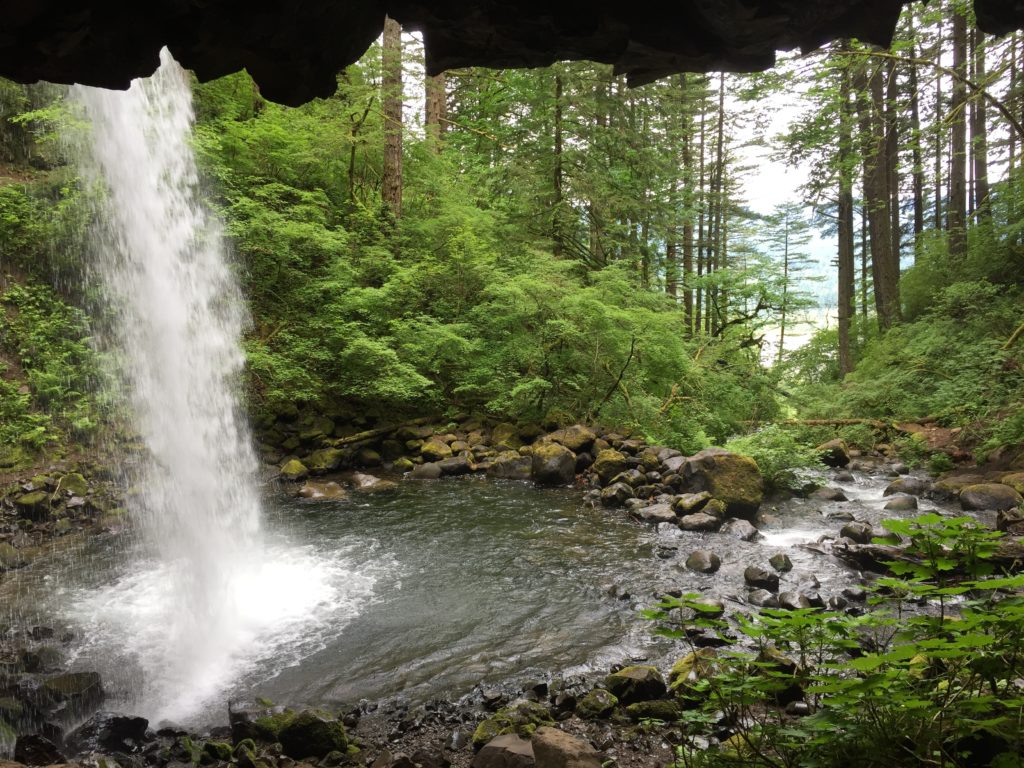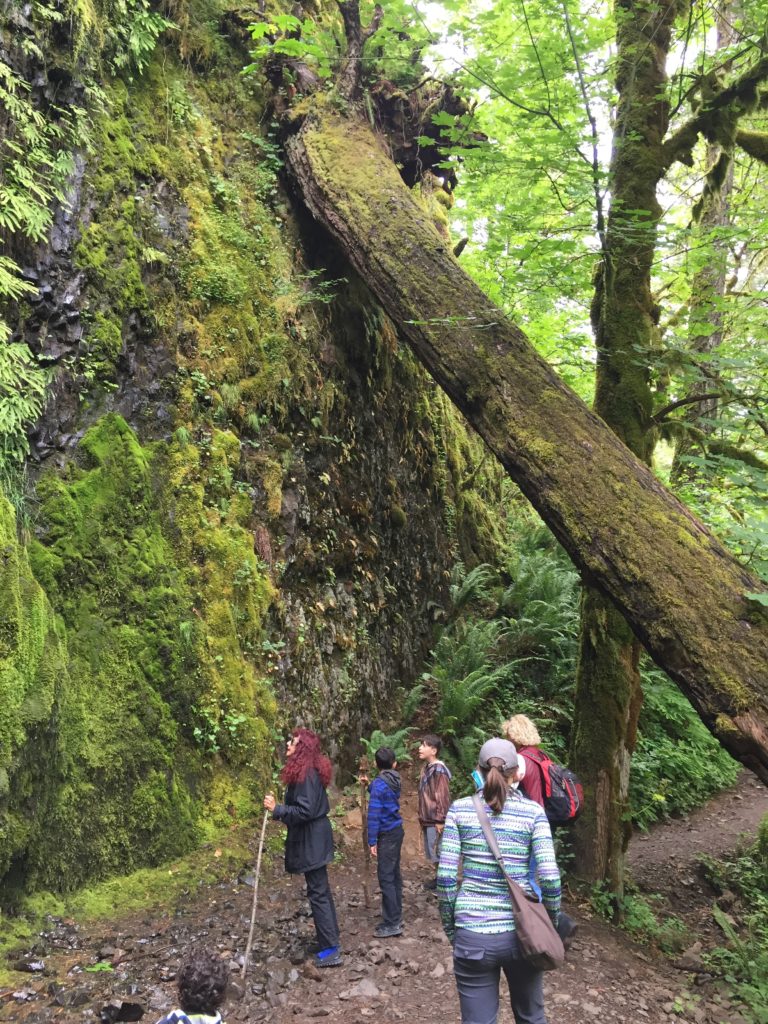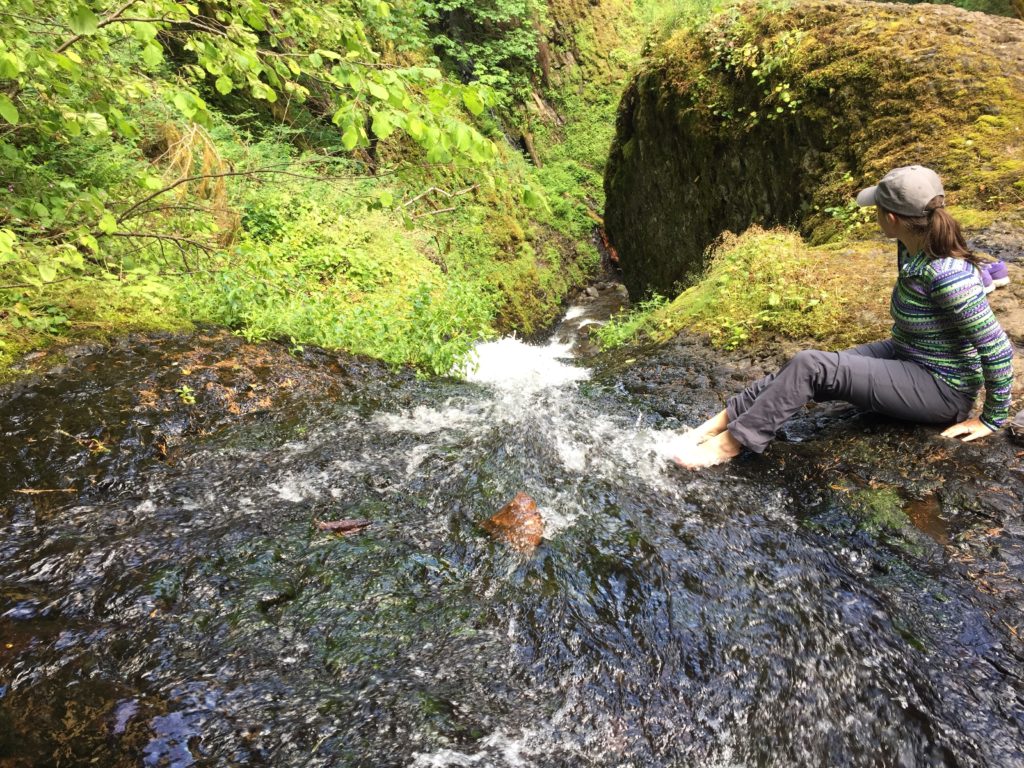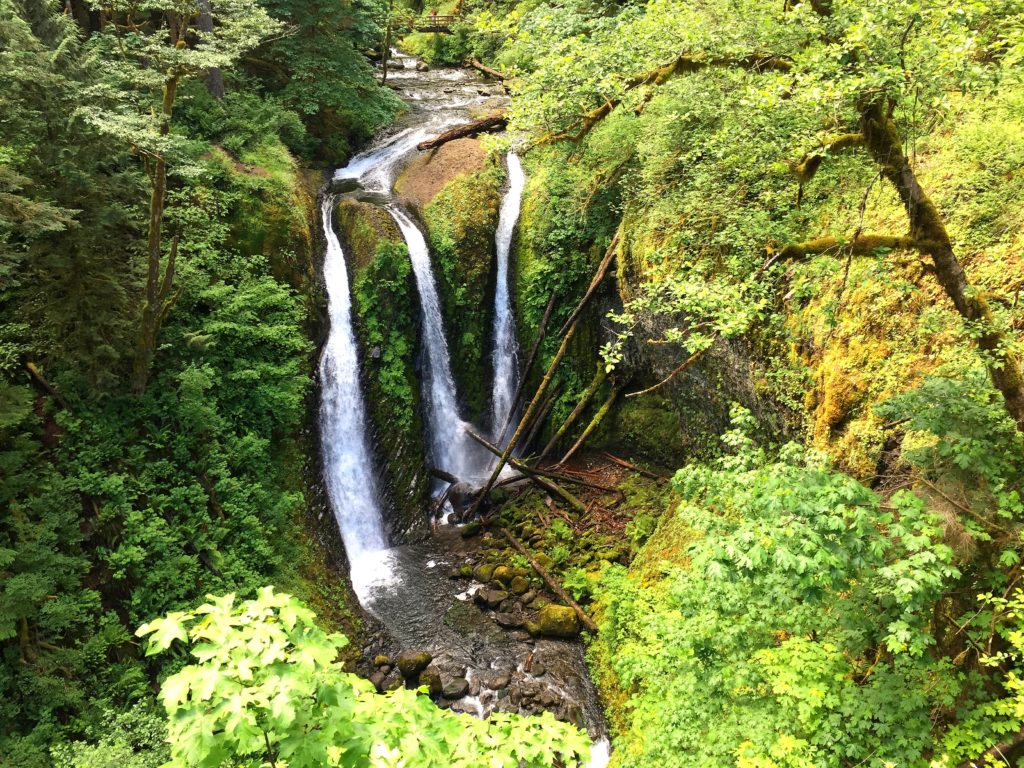 Monday morning I headed to Mt. Tabor Park in southeast Portland with hopes of catching a glimpse of Mt. Hood.  The clouds weren't cooperating, so I met Rebekah for an early lunch and headed to the library to write. I figured I'd go try the other Voodoo signature donut on my way home – the bacon maple bar. I tend to be against meat with sweet although for no real reason. I have no problem with maple-syrup-soaked bacon while eating pancakes and that's not too far from what this was. It was pretty good, but it had probably been sitting too long. This might be best done at home – add freshly cooked bacon to a glazed donut. Healthy eating at its finest.
Even though my flight wasn't until almost 6:00pm on Tuesday, I said goodbye to Rebekah and Dave at breakfast as I'd be gone before they returned from work. I visited the Lan Su Chinese Garden. It was nice, just a little too small for the money. I remember the Japanese Garden I visited in 2012 being far more worthwhile. While getting sprinkled on by intermittent rain, I grabbed lunch at a Korean food cart that Rebekah had suggested and ate at Director Park. Then I spent a couple hours browsing at Powell's, making it the perfect bookend of my trip before I started making my way to the airport.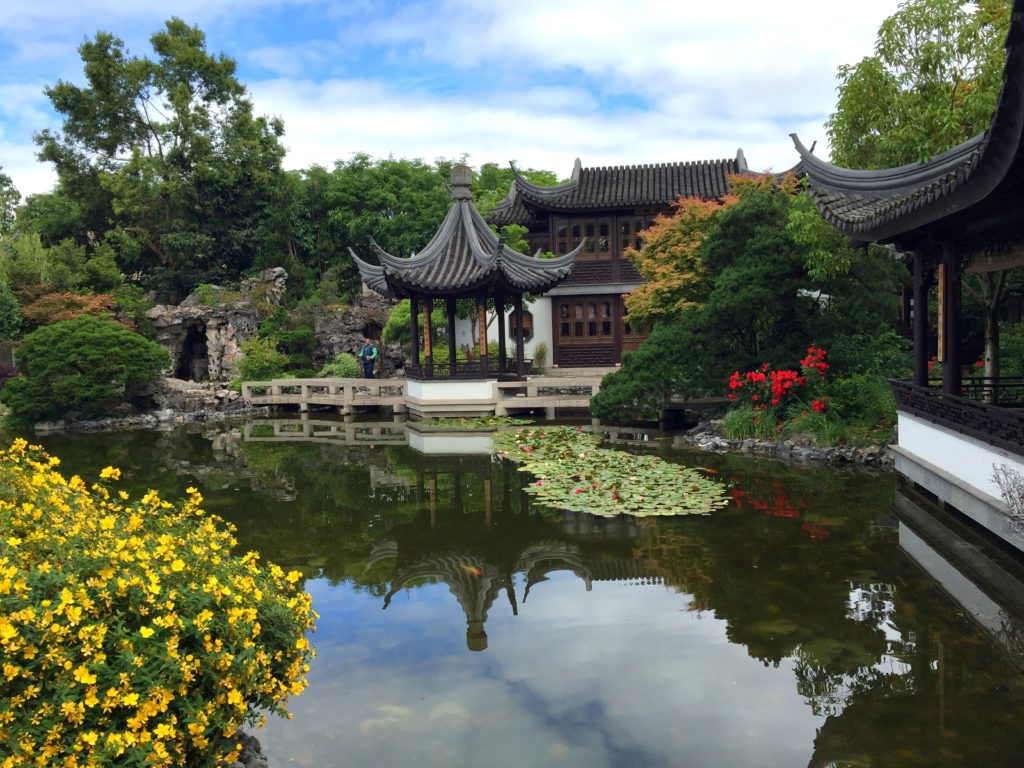 It's fun how a week away from home can seem to last way longer than a week, yet fly by at the same time. I think our goal should be to appreciate our time at home in the same way. Easier said than done!
Note: apologies to Portland, Maine and any other Portlands, but Oregon is the one that comes to mind first for most.