I knew this would be unlike any race I had done and relied heavily on the advice of friends who had done it before. I was told equal–if not more–time was spent walking than running due to the steep inclines and the need to conserve your energy. In addition to the running I would do for a traditional half marathon, it was suggested to do hills, stairs, and incline treadmill work. Workouts of long duration were also recommended, whatever the mode of training–just try to be as fit as possible.
I never got on a treadmill and did limited hill work. I did go four times to march up and down the stadium seats at Wichita State, spending between 45 to 90 minutes there. Those workouts left me with shaking legs and calves that were sore for days. I built up to two main long training runs. One of 12 in the heat which sucked, another of 18 from Kingman to Cheney along the hilly dirt roads. I was joined by my college teammate Fernando and my assistant cross country coach Rick. Four of our high school athletes caravanned along with us providing portable water stops and motivation. I ran all but half a mile of that and surprised myself with how good the whole run felt.
Rick and I left for Colorado after cross country practice on the day before the race. We rolled into Manitou Springs during a thunderstorm and picked up our bib numbers. My biggest concern at this point wasn't the mountain, it was the weather and what the heck to wear as you go up nearly 8000 feet in elevation? Meet administration seemed pretty conservative with its recommendations and reported several cases of mild hypothermia over the years in runners who weren't properly dressed. All the returning participants I knew suggested little more than shorts and a t-shirt. Meet officials transport your warmer clothes to the top of the mountain for you to put on after the race, so it was really all about what you might need during last three grueling miles. I was still nervous and unsure as over 5 inches of snow were forecasted for the peak on Friday night with temperatures in the low 30s Saturday morning.
The morning of the race Rick and I ate at Waffle House, eating more than I normally would before a race (though not as much if I weren't racing) trusting that due to the duration of the race we'd need the fuel and that due to the slow pace we wouldn't cramp up by having too much food on our stomachs.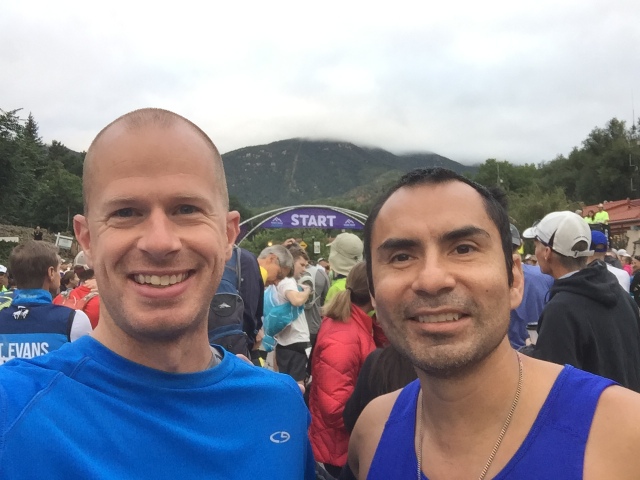 At the start I did trust the experienced runners and was down to shorts and a t-shirt with gloves and a stocking cap in my pockets and a light long-sleeve shirt tied around my waist. It was right around 50 degrees with no wind. Pikes Peak itself was obscured in fog so we took off trusting that it was out there somewhere. The start was in waves to allow the faster runners a slight head start and space everyone out. Nearly 2000 runners were about to head down (or up, I guess) a trail that was basically single file for most of the way. I ran with Fernando the first half of the race as we were in the same wave. The first mile or so is through the streets of Manitou Springs before hitting the trail up the mountain. This was the warm-up. I hadn't jogged at all before the start. My whole strategy was just be extremely conservative, which followed Fernando's lead (it was his 6th time doing the Ascent). If it was relatively flat, we jogged. If it was steep, we marched. Way more people were passing us than the reverse, but it wasn't like we were significantly slower than those around us, just being more cautious and patient. There was plenty of race to go.
I kept my phone in hand and was taking pictures throughout. I wanted to enjoy the experience and the views. I was far less concerned with my overall time. After the fourth mile, the course levels out (relatively speaking) and more running was possible. There were even a few short downhill stretches during which I flew by people taking advantage of the free boost from gravity. The back of my shirt proudly declared me a "flatlander," and I got many positive comments about it during the race. Through the halfway point, I was still with Fernando and having fun. Then slowly, but surely, the mountain began to win. The mountain always wins. I began to struggle to keep up with Fernando. I wasn't out of breath.  I just couldn't march as fast uphill. For awhile, I'd jog a little more on the flatter stretches and catch up to him, but after awhile I couldn't keep it up. Or, I guess I should say, my conservative race strategy wanted to make for darn sure I had something left for the end. I was still taking pictures throughout and actively chose to enjoy the view over pushing the pace and feeling miserable. I was even Tweeting and texting, surprised that I still had decent cell service.
The last three miles lived up to their fearful reputation. You cross above the timberline to bare rock and are basically marching up stairs. It's easily the slowest and most demoralizing phase of the race. With no trees to obscure your view, you can see just how far you have to go and you wonder if you can still make it. Running is virtually out of the question and very little passing is going on unless you happen by someone who had to pull over and stop for a rest (which is highly discouraged as they say it's far better to just keep plugging away one step at a time). I put one of my gloves on my swollen left hand as I was starting to feel the chill of the peak. I left my right hand free to continue taking pictures with my phone. I never bothered with my long-sleeve shirt. I did put the stocking cap on with about two miles to go, but more just as a precaution than anything else. I still wasn't winded and felt okay. The altitude had been surprisingly a non-issue. Just mentally drained with tired hips and sore back and ready to be done. I hit the three hour mark right around the same time and had it in mind to break 3:45 if I could (though I wasn't tracking my exact time, just approximately). With a mile to go, after about a 25 minute mile on the next to last one, I finally decided I could be aggressive. I knew I had 20-25 minutes left and running almost felt easier than marching with the momentum it gave you up the rocks. I passed several people that last mile and no one passed me. I had probably been too conservative, but that was exactly the game plan. I even pulled out my phone and videoed the last 40 seconds of the race. The crowd was great. An announcer read off our names as we approached (I was actually still close enough to hear Fernando finish a couple minutes ahead of me). The clock at the finish said 3:46-something. After a few minutes I remembered I had started behind the clock because I was in wave two and still might have a shot at being under 3:45 (I later saw my official time of 3:45:15 which I was totally okay with). It was gorgeous at the top and the relief of finishing was glorious. I'm not one to wear a finishers medal, but when they put it around my neck I didn't even consider taking it off. It was in the low 30s, but felt like 45 (at least for awhile), and any snow from Friday night had magically vanished.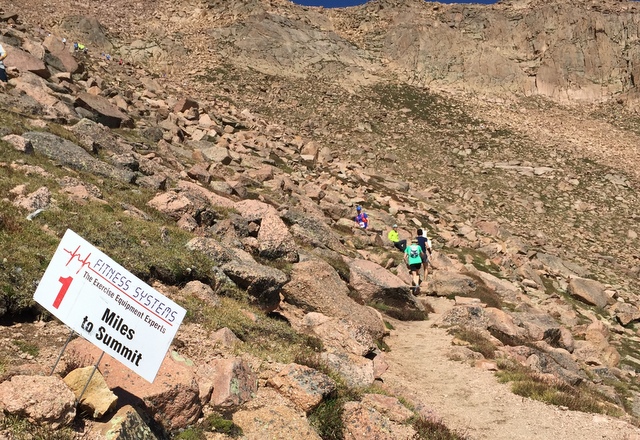 Then, a few minutes after the race as I watched others finish and I took more pictures of the scenery, I started crying. I was confused and have no idea why, but for about 5-10 minutes I was crying off and on. I found Fernando and he said that's actually a common thing. Another of his friends was over with her dad and couldn't stop crying. A guy standing nearby said he cried inexplicably when he had participated in the past. I still can't explain it, but this seemed beautiful to me. It seems like it was some level of spiritual experience. The race also may have technically qualified as torture and the relief of finishing causes one to weep. I always tell my athletes that your body doesn't know sports exist. After nearly four hours of marching up a mountain my body just wanted to cry and there wasn't much I could do about it.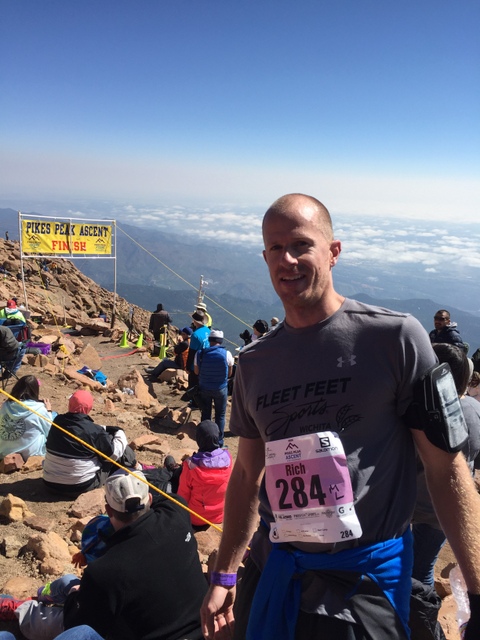 The first question everyone seems to ask after the Pikes Peak Ascent is whether or not you would do it again. This isn't an easy question to answer and your answer changes in the hours after the race. I've landed on yes. It was probably the hardest thing I've ever done and the most unique racing experience I've ever had. I learned a lot on the mountain and while I won't say I necessarily look forward to it, I can definitely see myself challenging it again.