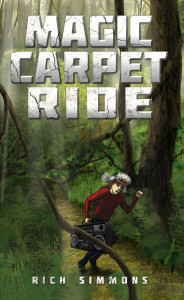 When high school sophomore Michael Bradbury disappears without a word, his friends Logan and Preston are worried. When he returns five days later with an enormous 1980s-era boombox, they are confused. When Michael shows them that the stereo is actually a time machine that plays Steppenwolf's classic tune before transporting them anytime, anywhere, their adventure begins.
Thanks for visiting my website.  This is my debut novel and it's been a fun experience to share it with everyone.
You can buy it for Kindle here.  And, no, you don't have to own a Kindle!  Just get the free Kindle app on any tablet or smartphone!
If you'd prefer a physical copy, you can buy the paperback here.