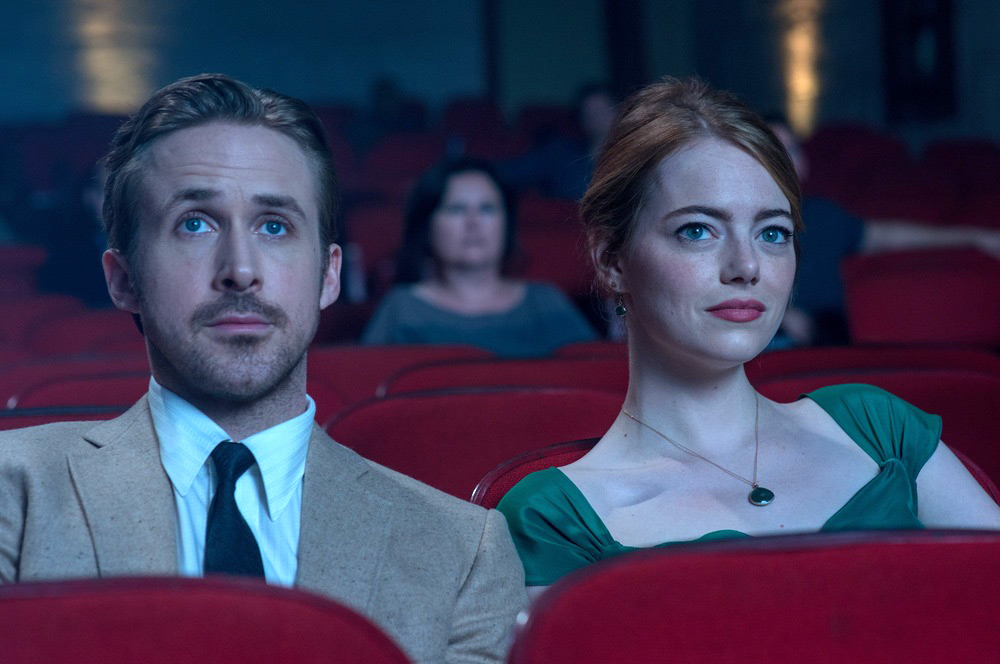 To start with, I'd like to officially declare this the Rogue One: A Star Wars Story memorial list. It was one of my favorite movies of the year, but I've realized that I'm just not able to properly rank and assess a Star Wars movie into a top ten list. Even when I talk about my favorite movies of all time, I don't mention the original Star Wars trilogy because they're not movies–they're Star Wars.
There were a lot of really good movies set in our own galaxy this year. Nothing that really stands out as an all-time great (except perhaps my #1), but it was definitely a very deep year. I know there are even more still that I just ran out of time to get to as they won't be available until after the Oscars and I don't want to be posting my Best of 2016 list so far into 2017.
Then there's the constant battle and debate of what criteria to use when assembling a list such as this. Are these my favorite movies of the year? The best? The most emotionally impactful? Most innovative? I was really struggling more than usual with how to decide on the final rankings when I came up with this: if there was a clone of myself (or myself one year ago) who had not seen any of these movies, what ONE would I choose and say he/I needed to watch? Then, with that one eliminated, what would the next one be? And so on.
Once I framed it that way, it came quickly. I changed some of my initial rankings, but the result was a list I am happier with.
Given the great year it was, I do have a healthy list of honorable mentions. Deadpool has one of the best opening sequences ever. It also proved that R-rated superhero movies can still be just as profitable. Tons of fun, just became too standard in the final third for me to elevate it higher. Fences is a great adaptation of a play which I was unfamiliar with. For good or for bad, you can definitely tell it was a play first. There's a poetic beauty to the artificiality of the dialogue. Some are considering Moonlight an upset candidate for best picture and I can see the appeal, but I felt like it was just the fantastic subtext to a larger tale we didn't get to see. Manchester by the Sea baffled me–I think it was a great script with great acting, but I think, despite the nomination for directing, that's what kept it from connecting to me emotionally. If you cried during it, this might be your top choice of the year. I watched it with stone-faced appreciation. I dismissed Hacksaw Ridge from its initial previews, but it wouldn't go away and found itself in awards contention and rightfully so. This one did get me to tear up, but ultimately didn't go too far to elevate it beyond other movies of its genre. I desperately want to see the world of Hail, Caesar! as a TV series. I don't think it was properly marketed and failed to find the right audience. Finally, I also have to give a shoutout to The Lobster. I can't even really say that I liked it, but I appreciate the attempt. It's almost as if Kubrick directed a Wes Anderson script. It has a wide gap between its audience and critic score on RottenTomatoes and I can appreciate both sides. It's a bizarre dark comedy that refuses to tell you when to laugh or when to cringe… and it's mostly cringing.
And, drumroll…
#10 – Hidden Figures
My only knock against Hidden Figures is just how neat and tidy it is. Set in the 60s and I don't think there is a single cigarette being smoked throughout. As good as it is, it just feels like a film that will be shown in high school science classrooms for a generation. That said, I loved it. The acting was great; the story was great. It breaks your heart and lifts your spirit in all the best ways. A story that is coming to us frustratingly late.
#9 – Loving
This is kind of the anti-Hidden Figures in a lot of ways. Nothing is sensationalized. It would have been easy to throw in more threats and violence against the interracial couple with the perfect last name. They married in Washington DC but were banished from their home state of Virginia for the crime of being a mixed-race couple. It was the case the ACLU was waiting for and took all the way to the Supreme Court. There's no heavy-handedness here. We don't see lawyers dramatically making their case. We don't see burning crosses in their yard. We just see Mildred and Richard Loving trying to make a life together. At this point, I think we're just counting down the films until Jeff Nichols gets a best director nomination.
#8 – Edge of Seventeen
The first movies that come to mind when searching for a comparison would be something like Mean Girls or Juno. It seems dismissible on the surface, but it's actually very well made. An R-rated teen comedy with a female protagonist–I don't know that I can even name another. Hailee Steinfeld was surely in the running for her second Oscar nomination here (she did get a Golden Globe nomination) and Woody Harrelson is an absolute show-stealer. It's just not what you expect it to be. It's not superficial; it's real and awkward and painful and sweet.
#7 – Nocturnal Animals
This was easily the most uncomfortable movie I saw this year, but it was also one of the most interesting. It's a movie that kept me thinking long after it was over. I even woke up the morning after and had new realizations about its deeper meaning. It features three parallel stories and balances them beautifully. It's dark and tough to watch, but it's a great piece of art. Michael Shannon was fun to watch as he chews the scenery in his Oscar-nominated supporting role.
#6 – Arrival
As much as I enjoyed Arrival I'm curious to see how well it holds up to a second viewing. Not that it's super-dependent on keeping the audience in the dark about certain things, but that's definitely part of it. I feel like I saw a couple things coming perhaps before the director intended, but I was glad at the directions they chose to go. It earns its spot on my list by being compelling and well-acted, with a clever story and great effects; a great movie to watch and discuss.
#5 – Hell or High Water
I was actually expecting this to remain a hidden gem that I could recommend to people who had never heard of it. Then it had to go and get itself nominated for best picture. It's very much a modern western–set today but with the tone and grit of an old western with bank robbers, an old sheriff, and shootouts. Just a quality film that raises moral questions about tough economic times with blurred lines between right and wrong.
#4 – Sing Street
Check this one out on Netflix when you get a chance. It didn't earn a single Oscar nomination but is just delightful and has an impressive 96% on RottenTomatoes. Set in Dublin in the 1980s, it's the story of a boy putting a band together to impress a girl. Directed by John Carney who gave us the film Once in 2007–one of my all-time favorites. Like Once, the music in Sing Street is part of the narrative, so if you're not a fan of musicals, don't feel like you need to shy away from this one. A couple of the set pieces are mesmerizing and devastating. It's one of those inspiring movies that makes you want to get off your butt and start living your life.
#3 – The Handmaiden
This was the last movie I watched in consideration for my list this year and it highlighted the regret I have at all the other movies I won't be able to get too. If I had stopped one film short, this one wouldn't be on the list. No way to know how many others might be up here if I had gotten to them, especially as this isn't even the favorite to win best foreign film this year. The Handmaiden is a film by Park Chan-wook who made the original Oldboy in 2005. I was tempted to put this at #1 for the year. So creative and innovative; dark and clever and hard to describe. I'm sure most of you will never see it, but I still won't spoil anything. The premise is conmen trying to trick a wealthy heiress out of her fortune; set in the 1940s in Korea. After it's off to a great start, about a third of the way through you realize it's not at all what you thought it was. Just a great way to tell a story. Perfectly layered with great acting and just a film that caught me off-guard. Not for the faint of heart, however, as it's borderline NC-17 at times.
#2 – Lion
I did have this at #1 until I reframed how I was approaching my rankings. It's so simple and plays with your emotions in such a way that makes me wonder if that's why, despite its nomination, it's not considered a serious contender for best picture. Regardless, this was probably the most emotionally devastating (though in a good way) movie I've seen since 12 Years a Slave. It's simple, but it rings so true. The tears I shed proved I wasn't the sociopath I feared while watching Manchester by the Sea. The first half follows a lost little boy in India and the second half shows him as an adult (played by Oscar-nominated Dev Patel) retracing his past. Like Loving it benefits from its lack of ambition. So many stories could work if told right and Lion could have easily failed or become melodramatic, but for me it totally sticks the landing.
#1 – La La Land
This does appear to be the hands-down favorite to win best picture at this point and it's completely deserved. The only chink in its armor being the lack of a SAG cast nomination (Braveheart was the last best pic winner without one), but it's basically a two-person show and Gosling and Stone are each nominated on their own. I'm reminded of when Billy Crystal joked at the Oscars five years ago that The Artist had the unfair advantage of being a really fun movie that everyone liked. That's La La Land. I had an ear-to-ear grin for virtually the entire runtime. I never really liked musicals growing up, but have warmed somewhat to them recently. I need to rewatch Chicago, because I really didn't like it at the time. But I think the bigger difference is whether the music is just the medium of the story or whether the movie actually EARNS the music. In Chicago, the music is separate from the story being told, but in La La Land the music is a natural extension of the story. No, it's not as organic as it is in Sing Street, but it still belongs. I'm a bit wary that I'd just rank it here for myself so that I'd see the anticipated best picture winner, but it's delightful and really is the movie from this year that you most need to see. It's just what movies are supposed to be–fun and entertaining–yet still avoids being exactly what you think it's going to be. It's likely the only movie from this year that will still be a household name in twenty years.